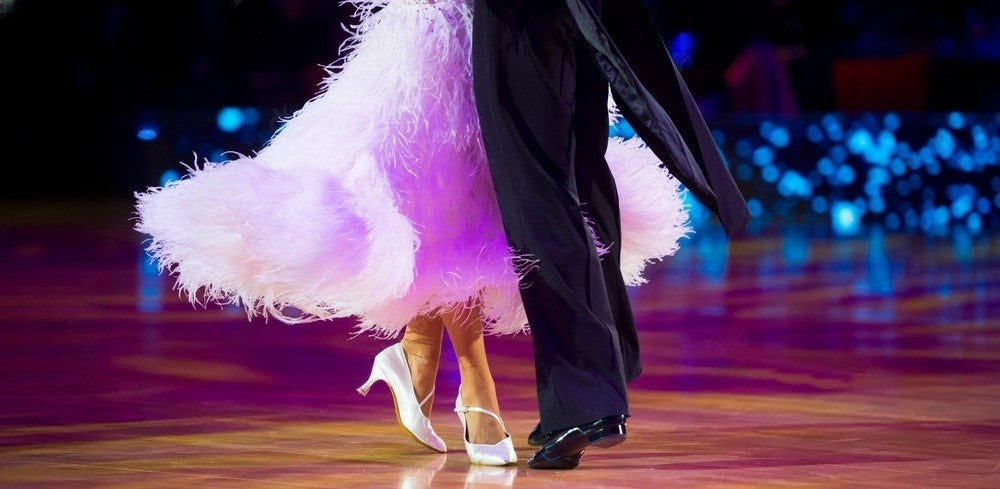 Dance sport - An expensive discipline?
Sports dance, this graceful and powerful art, fascinates millions of people around the world. However, behind the shine of the spotlight and the grace of the movements, lies a financial reality that is often overlooked. The cost of practice💰

One of the first expenses associated with dancesport is training. Dancesport classes, taught by highly qualified instructors, can be as exciting as they are expensive. Beginning dancers invest not only their time, but also their money in their quest to master the movements. Private lessons: between €35 and €60 per hour 💃💸

To progress quickly, many dancers opt for private lessons. These personalized sessions, although very beneficial, can weigh heavily on the wallet, costing between €35 and €60 per hour. A considerable investment for those looking to hone their skills. Competitions: travel, accommodation and bib costs 🏆🌍.

Competitions, essential in the world of dance sports, also entail significant costs. Dancers and their teams must cover travel costs to sometimes distant locations, as well as accommodation costs in often expensive hotels. Add to that the price of the bibs, and the total expenses can quickly soar. The sparkling costumes and accessories ✨👗.

On the dance floor, appearance is just as important as the moves. Dancers invest in elaborate, custom-designed costumes adorned with rhinestones and sequins. Not forgetting accessories like specialized dancing shoes, sophisticated hairstyles and sparkling jewelry. Cost reduction opportunities and passion as a driving force 💪❤️.
THE INTERVIEW
Let's meet Léna, a young 18-year-old passionate about sports dance. Despite the financial challenges she faces, Léna shares her experience, her determination and her love for dance. Find out how she manages her expenses related to her passion, the financial impact of dancesport competitions, and what she thinks of the costs associated with her practice.

------------

Line: Hello, Léna, how are you feeling today and how old are you?

- Léna: Hello! I am very well thank you. Currently I am 18 years old.

Line: First question, how did you discover your passion for dance sports?

- Léna: I discovered my passion for dance sports while watching the show "Dancing with the Stars" and joining my local dance club. It was a real crush that pushed me to embark on this adventure.

Line: How long have you been practicing dance sports?
- Léna: I have been practicing dance sports for 2 years now with dedication and enthusiasm.

Line: Can you tell us a little about your monthly expenses for dancesport classes?

- Léna: Of course, I spend around 50 euros per month on my sports dance lessons, taking a private lesson every two weeks. It's an investment, but it's definitely worth it to me.

Line: Outside of class, how do you manage your expenses related to dance clothes and shoes?

- Léna: This year, I spent around 220 euros on dance clothes and shoes. I bought a new dress and shoes the same month.

Line: Dancesport competitions often involve additional costs. Can you tell us more about these expenses?

-,Léna: Yes, participating in competitions entails additional expenses. I pay around 120 euros for the license, places for my family and travel costs. It's a financial challenge, but I'm doing my best to cope.

Line: How do you manage financially the high cost of dance sports?

- Léna: I manage financially the high cost of dance sports by saving as much as possible and benefiting from the financial support of my parents. Their help is invaluable to me at this stage of my life as a young, active person.

Line: Have you ever faced financial difficulties that prevented you from participating in competitions or classes?

- Léna: Yes, I have had to reduce my participation in competitions due to lack of money to pay for the license, places and travel expenses. It was a difficult time, but I continued to persevere despite financial obstacles.

Line: Despite these financial challenges, why do you think dancesport is worth it?

- Léna: Dance sport is much more than just a passion for me, it is an essential part of my life. Since my childhood, I have been immersed in the world of dance, and it gives me immense happiness. It's an escape, a way to express myself, and I also had the opportunity to meet exceptional people thanks to dance sports.

Line: Do you receive financial support from your loved ones to be able to continue practicing dance sports?

- Léna: Yes, I benefit from the financial support of my loved ones, particularly my parents. This is particularly important at my age, because I have just started working and my salary does not allow me to cover all the costs related to my passion for dance.

Line: If you had the power to change anything about the cost of dancesport, what would you change?

- Léna: If I could change something about the cost of dance sports, it would be to make the competitions more financially accessible.
I think dancers should not have to pay for licenses to compete, as we already invest in memberships and private lessons, which are often more expensive than the competitions themselves.
This would help many passionate dancers to continue practicing their art without being held back by financial constraints.
Line: Thank you very much Léna for taking the time to answer my questions
- Léna: Thank you, it was a real pleasure
----------
In this interview, we explored the world of dancesport through Léna's eyes, revealing the financial challenges many dancers face. Despite the high costs associated with this demanding discipline, Léna showed us that dance sport is much more than just a financial expense. It is an unwavering passion, a source of inspiration and a way of life.

Léna made us aware of the financial sacrifices that some dancers must make to pursue their passion. Her story highlights the central question: is dance sport really an expensive discipline? Yes, the costs are undeniable, but through Léna's story, we understand that the love for dance transcends these financial barriers.

This interview invites us to reflect on the inestimable value of passion and determination in the practice of dance sports. She reminds us that despite financial obstacles, the glow of passion can illuminate even the most difficult paths. Dancesport can be expensive, but it also offers intangible treasures of personal growth.